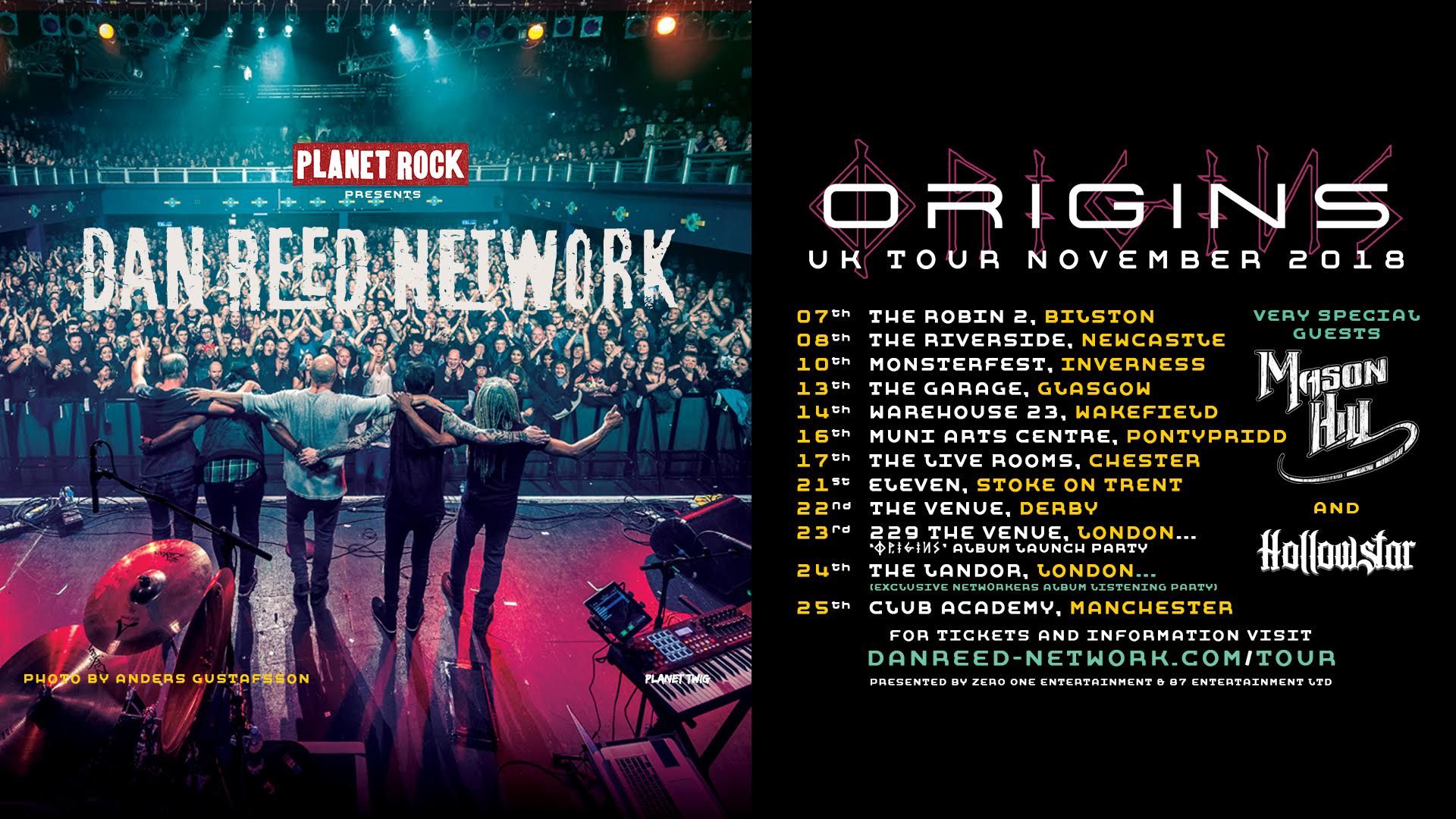 Honoured to announce the DRN 'ORIGINS UK TOUR' coming to you this November in celebration of an exciting music release we will be telling everyone about next month! Thank you to PLANET ROCK for co-presenting this tour and for all the work you do keeping rock and roll alive and well in the United Kingdom and the world at large! 
TICKETS available HERE - www.danreed-network/com/tour 
We are very excited to have 'MASON HILL' from Glasgow and 'HOLLOWSTAR' from Cambridge on the bill. These are two amazing up and coming UK hard rock groove bands whose music we really wanted to help expose to our audience as we know you will love their vibe and their sets will help make for a most memorable evening! Interested to hear more please check out their video links below to get a taste of their music! 
ALSO we will be doing a drawing on Facebook Live at the end of our DRN 'Studio Sessions' in Stockholm, Sweden on July 14th. The names of all those who share this post and help spread the word will be added to the drawing! The (10) names picked will win a new 'Origins Tour T-Shirt' and an invitation to come to the soundcheck of their choice of any of the UK dates. 
PLEASE NOTE the July 24th 'Listening Party' in London at 'The Landor' will be an afternoon event beginning at 2pm for those who are coming to the London show on the 23rd and wish to stick around and attend both events. The 24th Party is an exclusive event where only 70 tickets will be available on the 'Dan Reed Networkers' group page, so please join up if you want to be there for the party or receive special offers in the future! 
Dan Reed Networkers LINK - https://www.facebook.com/groups/1420377851352362/ 
We wish to thank everyone in the music industry that has helped us get to this point, those who help run our website and social pages, and all of you music lovers who have been supporting DRN since the very beginning, and all those who have discovered us over the last 6 years since returning to the stage and studio! We would not be here without all your love and support. It has been nothing but good times! We are very much looking forward to stepping it up a notch on this headline tour come November and rocking beside you all :-) 
Here's to the future! 
MASON HILL "Now You See Me" - https://www.youtube.com/watch?v=b973NnvjIy0 
HOLLOWSTAR "All I Gotta Say" - https://www.youtube.com/watch?v=YyLBcEa1TOA&feature=youtu.be